Teachers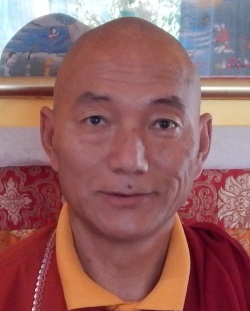 To practice Buddhism most effectively we need guidance and inspiration from a teacher who embodies the qualities that we are trying to develop ourselves.
Thus we cooperate in bringing Venerable Lama Assi and other highly regarded Buddhist teachers to New Zealand to give individual and group teachings, lead retreats and other activities. Regular contact with authentic teachers ensures our intentions and actions as a group and as individuals remain true to the essence of the Buddha's teachings. We also experience a tangible benefit by being in the presence of a teacher who can teach by example.
Lama Assi
Venerable Lama Assi is an accomplished teacher (Lama) of Vajrayana Buddhism with over 40 years experience in working for the benefit of others and guiding students on the path to enlightenment. In 1968 Ven. Lama Assi completed the traditional 3 year retreat under the guidance of the senior meditation master of the Kagyu Lineage, His Eminence Kalu Rinpoche. Since then Ven. Lama Assi has devoted himself to the practice of Buddhism and the welfare of others.
We feel very fortunate to have found a teacher of such excellent calibre to lead us on a valid, tested path towards ultimate liberation. Lama Assi is the perfect example of what we are aspiring to be - humble, strong, steadfast, kind, patient, clear minded, always mindful, pure in intension, and unfailing in his practice of Buddhism. We have plenty of opportunity for group and individual interaction with him, an experience that confronts you with yourself and from which, if we are open to it, we can benefit enormously.
Ven. Lama Assi visits New Zealand annually, spending most of his time in Christchurch and Nelson. Lama Assi is the spiritual director Kagyu Choeyang Ling's centres in Nelson and Christchurch. When in Nepal he resides at Tegchen Lekshey Ling, a Buddhist nunnery in Bodhnath Kathmandu. He is responsible for the smooth running of the nunnery, the well-being of the residents and guides the practitioners in retreat.
Visiting Teachers
We are also committed to bringing other respected Buddhist teachers to the South Island.
We have been most fortunate to have received a visit from His Eminence Sangye Nyenpa Rinpoche, a great master in this lineage, as well as Very Venerable Azin Rinpoche. In 2013 His Eminence Namkhai Nyingpo Rinpoche blessed our Christchurch centre during his visit to the city.
We have also hosted Ven. Choje Lama Shedrup, Ven. Lama Lobsang, and Ven. Lama Pasang.